Blog: Mothers, the original mentors
Mothers, the original mentors (but should you take on a motherly role to mentor?)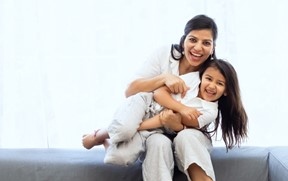 Mothers have the ability to liberate by love or, by neglect, to imprison.
They're our first teachers; they are our first loves. – Dr. Maya Angelou
We know that mentors are important to empowering women on their career journeys. Often, the role of the mother is the role of the first mentor.
Research shows that:
Statistically speaking, mentored women are more successful in the workplace than non-mentored women. They rise to leadership positions more quickly and with fewer roadblocks than women who do not have mentors.[v] When we think of career mentors, we often think of those we meet during our careers, but the seeds of success are sown much earlier.
It affects daughters to hear mothers say things like, I'm not great at math, you should ask your dad However minimal the exchange may seem, that attitude says a lot to a child about gender roles and tasks. It's far better to respond with, let's try and figure it out together. It's challenging to break intergenerational ideologies, mindsets, and uncertainties that can get passed down from mom to daughter.
Mothers sometimes don't realize that they are mentoring each day. Mother-daughter daily interactions can have a potent effect. On car rides or around the dinner table, sprinkle in some casual chats about career pathways, share leadership dreams, point out the tremendous opportunities in STEM, celebrate other amazing women. There is much power in such interactions. Moms build our confidence, entrepreneurial spirit, and self-esteem. As women, we need to encourage each other to forget our fears, says Dr. Danile, a retired university professor of accounting and taxation.[i]
Mothers, by all accounts, seem to be the most influential mentors in women's lives. Does this mean that female mentors need to take on a motherly role to increase influence? Absolutely not.
You're a mentor, not a mother
It's important to remember that mentees are not your children and mentors are not therapists, says Pat Mitchell, serial ceiling smasher, first female president of CNN Productions and PBS, and the first woman to own and host a nationally syndicated daily talk show.
Mitchell continues, As a mother and grandmother, I have to resist mothering because when I don't, the outcome is a blurring of roles and responsibilities. This hurts my mentee and degrades her sense of agency and accountability. And it hurts me because it takes an emotional toll and eats up a lot of my psychic energy.
To be a great mentor doesn't mean mothering, it means:
Aligning skills, interests, and goals

Investing time

Suggesting and nurturing

Asking questions

Not having all the answers
The WIT Network believes in the power of mentoring and helping connect mentors and mentees. We have many programs designed to support mentorship for women at all levels of their careers.
Our recent webinar, Modern Mentorship: Tribute Mentoring App for The WIT Network Members, introduces members to the power of having mentorship in the palm of their hand. The Tribute app can connect you both locally and globally, specific to industry, role, or aspiration. Check out the on-demand webinar here.
We also have virtual mentoring circles happening throughout the year. These are opportunities to come together to talk in small groups about topics relevant to you and learn from each other. Check out the schedule for time and subject.
But sometimes, you just need to ask mom
Parents are often uniquely able to help young adults with sensitive questions about career planning, corporate culture or office politics that they wouldn't feel comfortable asking a colleague, or don't even know how to ask, says Joanne Cleaver, Chicago author of The Career Lattice, a book about planning for complex career paths. Sometimes, it's safer to ask your mom.[i]
---
---