Sponsored by:

We've Got WIT Webinars
The WIT Network is proud to offer many programs, webinars and events that align to our mission and mandate. Please ensure you check back often as there will be regular updates to our What's Happening at The WIT Network. You will find all events and their registration information here.
Career Journey with Gena Goh:
A Path to Inclusion and Impact
Thursday, November 19th, 2020 12:00–1:00 p.m. ET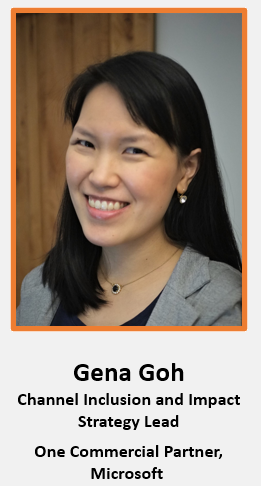 From an early career in the public service in Singapore, Gena found herself on an unexpected path crossing geographies and industries to land in technology. With an opportunity to experience a transformative moment at the company as it navigated a significant culture and business shift, now she's aspiring to create new paths to accelerate technology for more inclusive growth, in partnership with the Microsoft channel.
Come join us to connect in conversation with Gena as she shares her journey into technology and learn:
What it was like to step into the industry with her unique background and skill set
Challenges and surprises along the way that many women conquer
What she's learning about accelerating new paths for technology to become a driver for more inclusive growth
Gena Goh is the Channel Inclusion and Impact Strategy Lead for the Microsoft One Commercial Partner business. She focuses on developing strategies and programmatic offerings that can enable partners to innovate and build solutions toward more inclusive growth.
WIT Wellness: Set Yourself Free by Setting Boundaries
Tuesday, December 8th, 2020 12:00 p.m. – 1:00 p.m. ET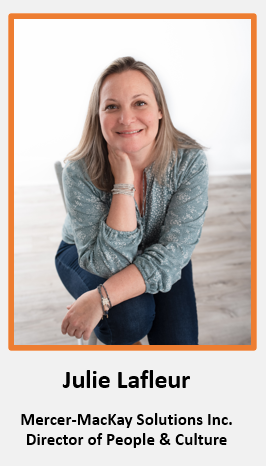 As a chronic high-achiever and people-pleaser, Julie got stuck in what she thought she should be doing. Trying to be the "best Mom", "best wife", "best employee", best co-worker, and the list goes on and on! Does this sound familiar? At one point however, it became very clear that this was no longer sustainable, and it all came to a screeching halt. As a burnout survivor, Julie has learned that setting boundaries is a life saver. It not only helps you, but it truly does help everyone around you. Setting and reinforcing boundaries is not easy and it takes constant practice – but starting the process will change your life. As we go into the holidays and then into the new year, there is no better time to start thinking about this!
Join Julie on this WIT Wellness Webinar and learn:
How to think of boundaries as a way of helping yourself AND others
Simple ways to start setting and reinforcing boundaries
Tips on how to protect your energy and how this relates to setting boundaries
Julie Lafleur is a part of the Leadership team at Mercer-MacKay Storytelling, Program Manager for The WIT Network, a Reiki Practitioner, proud hockey mom, and is building out a mindset practice.
From Military to Microsoft:
Lessons on Taking Command of Your Career



Thursday, December 3rd, 2020 11:00 – 12:00 ET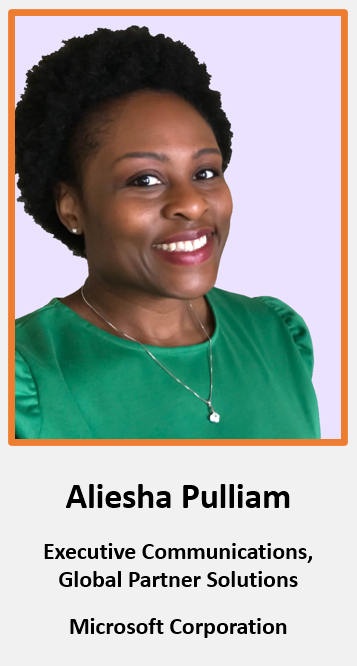 When asked what she wanted to be when she grew up Aliesha Pulliam had no clue, but the idea of leaving her small town in North Carolina sounded fantastic, so she joined the Navy a month after high school graduation. That decision catapulted her into a series of careers in electronics and tech which ultimately caught the attention of a recruiter at Microsoft. Join this webinar to hear about Aliesha's career journey from living and working on an aircraft carrier to traveling with the President of the United States to managing Executive Communications at Microsoft.
Come join us and gain insights on:
Aligning your career with your purpose
The highs and lows of a career transition
Finding value in every life experience
As Executive Communications Manager for two Vice Presidents in Microsoft's Global Partner Solutions organization, Aliesha Pulliam develops the communications platforms for her executives, spanning their vision, thought leadership, business strategy and Microsoft's mission.

~~~~~~~~~~~~~~~~~~~~~~~~~~~~~~~~~~~~~~