Blog: From stage to screen with Angela Jajko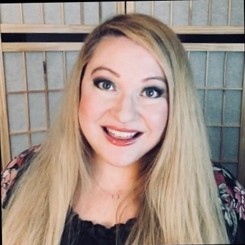 Did I dream of entering the tech industry when I was young? No, that was my brother (he's an engineer at Oracle). First, I wanted to be a writer. Then I discovered I could sing and studied to be an opera singer. But most people in the performing arts have two careers, so I found my way into technology in addition to professional singing.
I work at Taos, an IBM Company. We're an IT Consulting firm, and I was recently promoted to GTM Program Manager. I love the creativity of my position, my team, and my ownership of projects and programs. While I'm thrilled with my new role, I am directionally focused. What direction, you ask?
Up!
I aspire to strategic leadership where I can really make a difference.
My mom taught me independence and equality early (I grew up on Ms. Magazine). I had some amazing mentors in the arts, starting with the great John Hall at UCLA. Coming from the Arts to Business, I was flying blind without much guidance, but Peter O'Connor at Kennison Associates in Boston was a mentor and guide. He taught me so much that I would not be where I am without him.
Now I'm lucky to be surrounded by many role models and mentors, including Hamilton Yu, Rachel Beckler, and Melissa Munnerlyn at Taos, Andan Lauber at Google, and Jamie Henderson at LinkedIn. Corinne Sharp and Christine Bongard at The WIT Network are the passionate changemakers that I want to be. I've learned so much from each of these people – lessons I will carry with me.
I love learning and can honestly say that I am a lifelong learner. Having already achieved a Bachelor of Music from UCLA and a Master of Music and a Graduate Diploma from New England Conservatory of Music, I am graduating next week with my fourth degree, a 4.0 MBA from the University of Massachusetts Amherst Isenberg School of Management. Being open to new ideas and learning new skills keeps me engaged and fresh and makes me better at my job. Learning and professional development don't have to be bestowed by universities and colleges; we can learn from each other and our experiences. That's one reason that I am the webinar coordinator and liaison for The WIT Network. The webinars and professional development opportunities included in the membership are amazing, and I feel privileged to help organize them.
I've learned from my own experiences, and it's an idea reflected in multiple WIT Network webinars – embrace failure. It's a gift, especially when you can learn from it and have a community like The WIT Network to support you.