Blog: HER Story Shweta Goyal
HER Story
Trailblazing a path to a better future with Shweta Goyal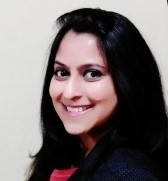 I work for CompuCom Systems as a Senior Manager in Operations. With 15 years of rich experience in IT, I now manage the service delivery to end-users and point-of-sales devices to ensure a seamless digital experience and exceptional outcomes.
Get comfortable with the uncomfortable
When I was a child, I dreamed of being a pilot, a lawyer, a teacher, an astronaut, and a scientist. I grew up and earned a bachelor's degree in Chemistry before completing my MBA. Now I simply aspire to be the best version of myself.
I see the opportunities that technology offers us, not just for business but also to enhance our everyday lives – and that's why I choose this path. What I love most about my job is the opportunity to explore what's next. Curiosity about, and the anticipation of, what the next significant shift will be and how best we can take advantage of it to deliver value to our customers.
Women bring diverse perspectives and are necessary contributors to technology as it shapes the future. As technology continues to transform, we need to ensure it is equitable and accessible for all.
I am honored to be part of the Women in Technology Affinity Group at CompuCom. We champion the inclusion, connection, development, advancement, and support of women to better CompuCom's culture, business, and communities.
Someday, I hope to make a meaningful and sustainable impact for women outside of CompuCom by using technology to help women in rural areas understand their diverse skills and bring the world to them, to learn from them.

Trailblazing a path
I was recently recognized as a CompuCom Women in STEM Trailblazer. This award is internal, open to any woman companywide, working at any level. It celebrates a person who has shown support for other women or acted as a motivator or agent of change as we continue to break down industry barriers while advancing the fields of STEM.
CompuCom recognizes the important role women and allies play in supporting women in technology to be successful. It encourages women to create a path that other women may follow and help others through any roadblocks or adversity that could get in their way. As the former U.S. First Lady Michelle Obama said, You should never view your challenges as a disadvantage. Instead, it's important for you to understand that your experience facing and overcoming adversity is one of your biggest advantages. Once you've lived through adversity, you can better help other women navigate it.
The WIT Network adds fuel to the engagement fire
The WIT Network is a powerhouse that fuels engagement, learning, ideation, and growth for women across the globe. The global and local events give us a sense of belonging and a safe space to share our views on diverse topics. It's great to have meaningful conversations with amazing women and allies, learn about current challenges, and learn together how to make this a better industry.
Through The WIT Network, I was introduced to The ATHENA Emerging Leaders program. I'm learning so much from the cohort and value having a safe place to have meaningful conversations. We are encouraged to be authentic each week and carry that authenticity into our leadership. Being confident in yourself and your unique capabilities is essential.
If you are new to the industry, you may feel you don't have all the skills or know everything you need to know. That's okay. Your first step is to believe that your BIG dream can be a reality.