Blog: How to protect your mental health
EMPOWERING Updates
How to protect your mental health during times of challenge and change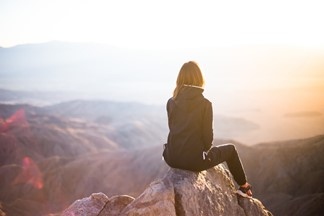 We have to protect our minds and our bodies, and not just go out and do what the world wants us to do.
– Simone Biles, the best gymnast in the world and member of the USA Olympic Team
Biles made the decision not to compete in the Olympic gymnastic finals. For many fans it was heartbreaking; however, in taking that action she showed the world how you must set boundaries and show up for yourself first. The Olympics only happen every four years. That's four years of preparation and training she's put into that moment, and she chose her mental health over the chance at a medal.

We can all learn from the strength that Biles demonstrated.

As we start returning to offices, social encounters, face-to-face meetings and whatever the new normal will be, let's protect our mental health with healthy boundaries and regular self-care.
If you're anxious, you aren't alone
While some people relish the return to shared office space, others are hesitant or feeling anxious about the transition. There is true anxiety about going back to work, says Dr. David Dozois, a professor of psychology at Western University, a number of polls, Leger for example, [have] said that 53 per cent of people are anxious about returning back. The American Psychological Association said that about 50 per cent of people are anxious about the kind of social etiquette of going back to work.
[i]
One-third of respondents in a new McKinsey survey said their return to work has had a negative impact on their mental health while almost half of those who have not yet returned anticipate negative mental health impacts.[i]
Why is a return to what was once normal so stressful?
According to Dr. Aderonke Pederson, a mental health specialist at Northwestern University's Feinberg School of Medicine, it's because We've had a change of routine, at least to some degree, for most people for over a year now. I think it's very expected that people will have some hesitation around what it looks like to return to work or school. Dr. Pederson also noted that public health and government messaging has emphasized that home is the safest place for people to be throughout the pandemic, so it is to be expected that many people feel anxious about returning to the workplace.[ii]
Karestan Koenen, a professor of psychiatric epidemiology at the Harvard T.H. Chan School of Public Health, has some advice: Go slowly.
We've all gone through a tremendous amount of change and stress this past year, in lockdowns, in changes to the way we work, live, in every aspect of our lives. And now we're being asked to change back. It's a time of tremendous change, and it's good to remind ourselves that all change is stressful.
Koenen said, it's also important, however, for individuals to recognize that avoidance enhances anxiety, so it's best that – as long as infection rates remain low – they push their boundaries, even if, at first, they may feel heightened anxiety.[iii]
But to push your boundaries safely you need to know your boundaries
Healthy boundaries are critical to maintaining your mental wellbeing. If your entire office is returning to your normal place of business, it may be uncomfortable, or you may be unable, to work remotely. However, you can establish clear boundaries to make yourself feel comfortable. For example, saying no to after-hours social events until you feel comfortable or going for a walk to enjoy some space and quiet at lunch.
[i] https://london.ctvnews.ca/true-anxiety-about-going-back-to-work-studies-show-canadians-feeling-post-pandemic-anxiety-1.5484735