Blog: HER Story Doreen Sebben
HER Story
A journey of learning with Doreen Sebben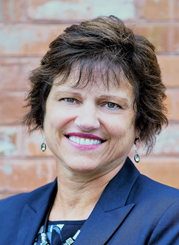 I have been in the technology industry for almost 30 years – 25 of which were spent at IBM.
I've had many roles, but none have felt like jobs. They were more like stepping stones on a path of lifelong learning. For me, it's not about the roles, it's about the journey. I love the journey.
I was extremely fortunate that every few years I would have the opportunity to step into new and challenging leadership roles within IBM. I am forever grateful for my amazing IBM mentors who inspired me to get out of my comfort zone and step up to the challenge. I helped transition the IBM Channels Team to Lenovo, and for the past four years I have been a Business Development Executive, Vice President of Solutions, and Consultant at Able One.
Throughout my career I have helped clients embrace disruption and solve problems by aligning people, processes, and technology. I take personal accountability for transformative outcomes and my belief in progress inspires others to rise to the challenge.
I'm a life-long learner who continues to re-invent myself in a dynamic industry. Most recently, I co-founded and currently operate a consulting firm. My career journey has taken me from a big corporation to SMB, to becoming an entrepreneur, and now a leadership role in a not-for-profit as Executive Director with The WIT Network.

Some Stepping Stones on the Career Path
When I was growing up, I wanted to be a teacher. I loved playing school, being in charge and writing on our chalkboard.
My parents emigrated to Canada from Slovenia in the late 1950s. They came in search of a new life with only the clothes on their backs. They were very traditional, hardworking and resourceful. My mother has always been my primary mentor. From her I learned the power of hard work, a charitable spirit and laughter. She taught me that no matter what challenges you have or how much work there is to do, you gotta laugh and make the most of every day.
While my parents never pushed a profession or agenda on their children, my dad always encouraged us to get a good education. My parents didn't have the opportunity to go to university themselves, but they wanted to pay for us to have that opportunity, so we wouldn't have to work in a factory.
After my exams in first-year university, I took the first job that came up. It was at a shoe factory. After the first week, the foreman pulled me aside and told me to slow down because my production was too high. The other workers were getting nervous. One week later, I just couldn't slow down, so I took a job at Canada Trust Bank. I graduated with an Honours Bachelor of Commerce from McMaster University.
Before graduation, I was offered a Management Trainee role and thought I was going to embark on a banking career. Little did I know how impressed I would be by the on-campus recruiters and the opportunities that IBM had to offer.
Lesson learned – be open minded about your career choices. It really doesn't matter where you begin because it's all part of a much longer journey.
My first manager at IBM became my first professional mentor. She said I had a lot of potential, a lot of energy, and was very smart and self motivated. She also said I was like a Bunsen burner. Similar to a Bunsen burner, you must learn to meter the flame, make sure it doesn't extinguish or erupt and cause damage. From her, I learned how to channel my positive energy and enthusiasm in a way that it is not disruptive or overwhelming to others. Over the years, I channeled a lot of that energy into advancing women in technology and helping support women just beginning their careers.
Ten Pieces of Advice for Women Starting Out
I've learned many lessons along my career journey. Here are my top ten pieces of advice for women just starting out (in no particular order).
It's a journey, not a destination. Every role is a stepping stone. Learn lots, enjoy the moments, and don't always worry about moving up. Moving sideways, left, or right – it's all good and contributes to your growth. Most importantly, enjoy the ride.

Be true to yourself and make time for yourself (probably the hardest to do).

Don't be afraid to fail. But fail fast, pick yourself up again right away, and try again.

Have courage and grit.

Don't be afraid to ask for help.

Set both personal and professional goals. Put them in writing or post them publicly and hold yourself accountable.

Seek mentors (more than one) that you aspire to be like or who can help you enhance a skill. Establish a goal and work towards it together.

Give back to your community, to your children's school, and by becoming a mentor or helping advance and empower the next cohort of leaders in any way.

Live in the moment. Don't worry about yesterday. Don't worry about tomorrow. Talk to people, meet new people, enjoy people and be present with them.

Finally, become an agent of change not just a spectator – all of us can make a difference if we work together.
Always An Agent of Change
I have been a passionate advocate for the inclusion of women in technology throughout my career. I was almost always the token female in client and internal meetings, and I could never figure out why because we have so much to offer. I met some change agents, and that motivated me to pioneer IBM's first South Western Ontario (Canada) WIT Chapter, which I lead for over a decade.
Technology is such an exciting industry to be part of. I love how it continuously changes, touches every industry, and impacts every person. One of my favourite pastimes is to inspire young women and girls to pursue careers in STEM. It is such a rewarding way to give back. I have actively participated in IBM STEM initiatives, and as an Advocate for the Global Women in Lenovo Leadership. In my community, I volunteer for #HerHalton and Women as Career Coaches (WACC). Most recently, I took on the role of the Canadian Lead of The WIT Network.
Through The WIT Network, I attended the ATHENA Emerging Leaders Program (Cohort 6). I wanted to learn how to advocate with intention and experience. Being in the 4th quarter of my career, I was a little skeptical of what I would learn. But learn I did. This course reminded me to be true to myself and motivated me to turn my extra-curricular activities around WIT into a full-time role.
I am so delighted to take on the role of the Executive Director of The WIT Network. I am honoured to be of service to such a wonderful group of change agents, both globally and locally.