Blog: International Women's Day Recap 2022
The WIT Network International Women's Day Recap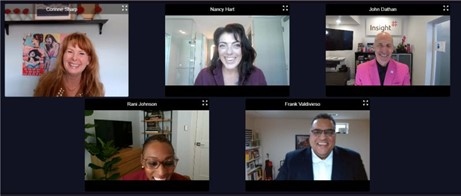 Each talk, panel, and chat focused on one aspect where change must happen to make the technology industry more inclusive and equitable for everyone—from addressing that economic power is personal power to what microaggressions look like and how to deal with them—many tough but necessary topics were discussed with grace. As The WIT Network Michigan community leader Meredith Horvarter said, the speakers were dropping truth bombs like product patches.
While each talk was very different, overlapping themes emerged that built on and supported the overall messaging of what we need to #BreaktheBias. The common thread throughout was the need for action and empowerment to change the narrative. To take action and empower, proceeds from The WIT Network IWD 2022 conference will sponsor 50 women through ATHENA leadership cohorts.
Going all-in on diversity and inclusion
The keynote address from Lindsay-Rae McIntyre, CDO of Microsoft, illuminated the statistics of what diversity, equity, and inclusion (DEI) mean for business performance, employee turnover and what is often neglected in conversations—bigger market opportunities. She then went on to look at what Microsoft is doing to invest in DEI to strengthen its corporate culture and its solutions and how allyship can make all the difference.
What are your career steppingstones?
Stefanie Chiras, Senior vice president, Red Hat Platforms Business Group, started by quoting the Talking Heads' song Once in a Lifetime: And I may ask myself, how did I get here? She then outlined the benefits of a skills-based career approach and five lessons picked up along the way. At the root, Chiras is on a quest to be valuable over a quest for a specific title.
The power panel: The great resignation retention
This panel of tech industry powerhouses (Nancy Hart of NetApp, John Dathan of Insight, Rani Johnson of TIBCO, and Frank Valdivieso of Gryphon and the Black Channel Partner Alliance) moved the conversation away from why are employees, especially women, leaving the workforce in droves to what can we be doing to keep them? This impassioned panel shared much practical advice and some hard-hitting truths and realizations.
SOAR above microaggressions
Cherilynn Castleman, managing partner at CGI, sales coach, and author of What's in the C.A.R.D.S.? 5 Post Pandemic Sales Strategies started with a story illuminating how powerful sharing our narratives can be. Her story of a sales dinner with a group of peers depicted not only what a microaggression is but how the recipient feels and how quickly a situation can go sideways when not handled properly. Castleman outlines tips to help you SOAR above microaggressions by considering Safety, Outcome, Argument, and Relationship.
Make effective feedback your superpower
Brandee Nielson, Agile Coach at PwC, discussed the phenomenon known as protective hesitation and how it can be detrimental to a woman's career path. Protective hesitation is when leaders don't provide clear, consistent feedback to women and ethnically diverse staff because they're worried about the recipients' response or how they could be perceived. Women receive vaguer, less valuable, less actionable feedback than men, contributing to less frequent promotions.
Fireside chat: Men as Allies
Gavriella Schuster, DEI advocate and author of BeCOME ALLIES: A framework for change, and Thomas Ajspur, CEO of Enavate, spoke about the importance of allyship and the actions you can take to be an ally. What was most powerful about this chat was the evident humility. No one gets allyship perfect. But it's being willing to learn and grow and fail and learn again that's critical as we Advocate, Listen, Lift, Include, Elevate and Sponsor each other.
Creating a life by design, not by default
Monique de Maio, Founder and CMO of onDemandCMO, told a real-life story about martinis and double standards that hit home for many attendees. But as de Maio shared her courageous journey from cringe to joy, we all learned how to create a life by design and not default. She asked us to consider what is not being said, how and where we are spending our time, and whether that aligns with our values.
With gratitude
None of this would be possible without our sponsors. A massive thank you to Microsoft, Jabra, Red Hat, PwC, Enavate, TIBCO, Shiny Docs, Insight, NetApp, WatServ, Encore, Ingram, and Mercer MacKay Digital Storytelling for sponsoring The WIT Network International Women's Day Conference. We are grateful for your support and that you are active agents of change.
To experience or relive the entire IWD event, follow this link.