International Women's Day 2022 On Demand
Thank you to all who joined our
International Women's Day Conference 2022
as we embraced what it takes to #BreaktheBias
Nearly 900 people participated in our 4th Annual International Women's Day Conference held virtually on March 8th to celebrate around the world, in our communities, and in the technology industry. This powerful learning, reflecting, and networking experience embraced this year's International Women's Day theme,
#BreaktheBias.
Our poignant speakers delivered empowering messages addressing the multifaceted topics around moving beyond imagining a world with gender equity by taking action.
For those who missed the event or who would like to re-live these transformational discussions, speaker videos and links are posted below.
We look forward to welcoming all our of new members from around the globe and thank you all who find the courage to break the bias!

The WIT Network Celebrates International Women's Day 2022

President - The WIT Network
Christine Bongard, President of The WIT Network, opens the International Women's Day 2022 Conference with an inspiring welcome to the audience.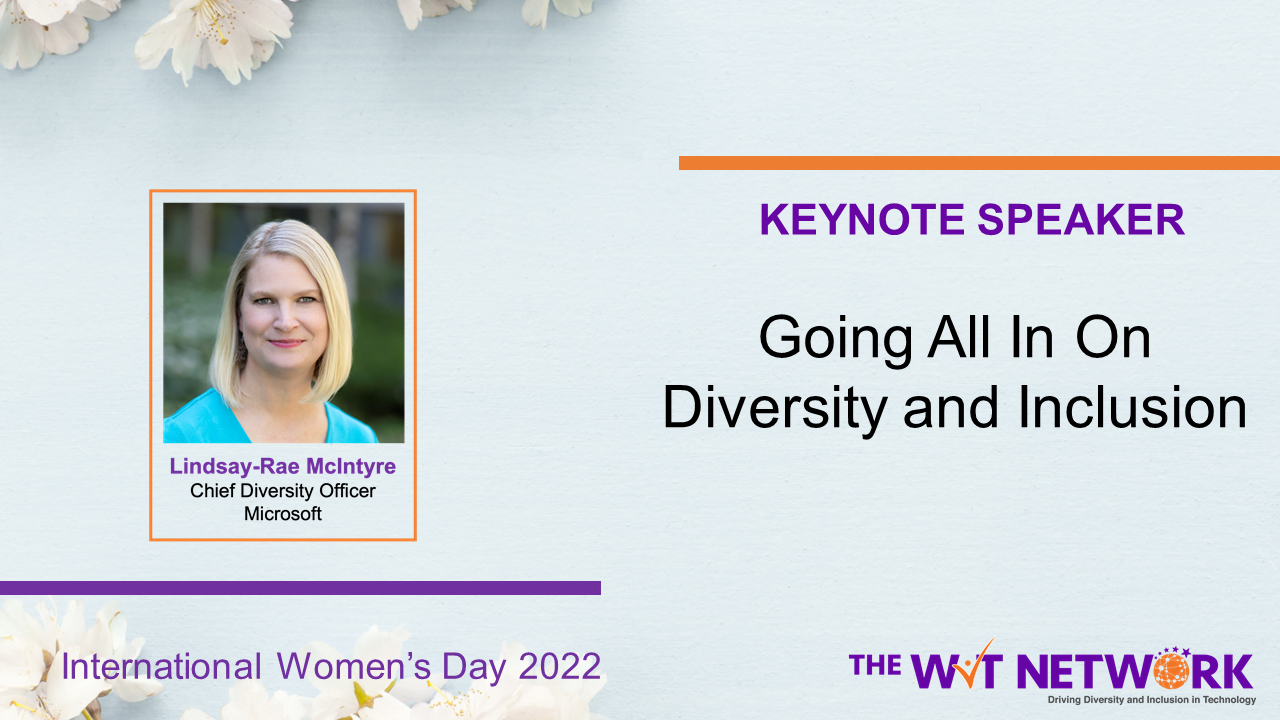 Lindsay-Rae McIntyre
Chief Diversity Officer - Microsoft
Going All-In On Diversity and Inclusion
Lindsay-Rae McIntyre, Chief Diversity Officer at Microsoft, shared about Going All-In on Diversity and Inclusion in her inspirational keynote, discussing the Microsoft inclusion journey, getting over getting it wrong, and creating a culture where everyone belongs. Visit
Microsoft Inclusion

Journey
to learn more about these concepts.

Stefanie Chiras
SVP Partner Ecosystem Success - Red Hat
What are your career stepping stones?
Stefanie Chiras, SVP Partner Ecosystem Success at Red Hat, a Champion Corporate Member at The WIT Network, shares incredible best practices for navigating your career journey.

Power Panel - The Great Resignation Retention
Corinne Sharp - Co-Founder & CMO The WIT Network
Corinne Sharp, Co-Founder and CMO at The WIT Network, hosts leaders from several tech companies to discuss why women are leaving organizations and, more importantly, what leaders should be doing about it.

Managing Partner - CGI, LLC
SOAR Above Microaggressions
Cherilynn

Castleman, Managing Partner at CGI LLC, helps us understand what microaggressions are and how damaging they are to a corporate culture. It is time to recognize and stop this bad behavior.

Brandee Nielsen
Manager, Agile Coach - PwC
Make Effective Feedback your Superpower
Brandee Nielsen, Manager and Agile Coach at PwC tells us all how to make effective feedback your superpower. Feedback is a gift and it helps us all learn, grow and develop in our careers.

Fireside Chat: Men as Allies
Gavriella Schuster - DEI Advocate, Board Advisor
Thomas Ajspur - CEO Enavate
What does it really mean to BECOME an ally? Watch Gavriella Schuster, DEI Advocate and Board Advisor to The WIT Network and Thomas Ajspur, CEO of Enavate discuss this very important topic relevant to both men and women.

Monique de Maio
Founder | CMO - ondemandCMO
Creating a Life by Design, Not by Default

Through her engaging stories, Monique de Maio, Founder & CMO at ondemandCMO, tells us how a life by design means making sure you spend more hours doing things that give you joy rather than things that make you cringe.

Doreen Sebben
Executive Director - The WIT Network
Empowering Women Around the World
Doreen Sebben expresses gratitude and recognition for the contributors who help make The WIT Network's International Women's Day Conference happen, and gives a sneak peek at exciting programs coming up that you won't want to miss.

Thank You to Our Sponsors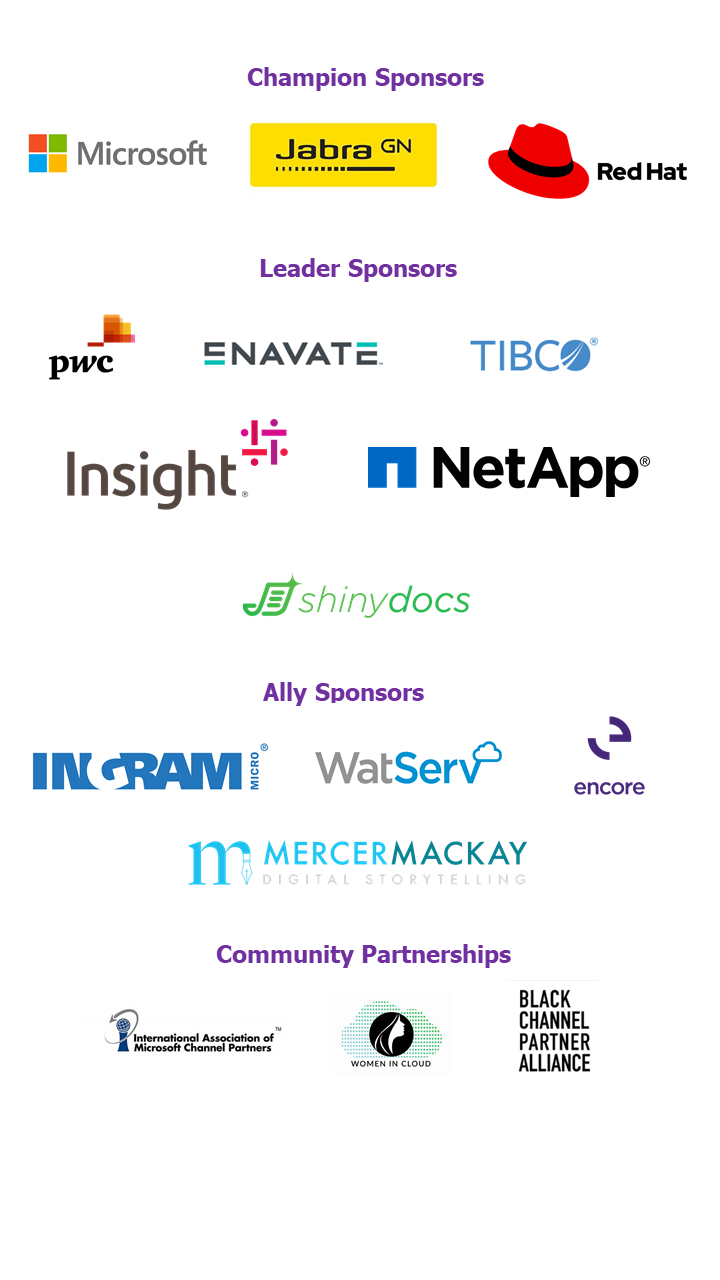 About The WIT Network:
The WIT Network is a global and local community made up of over 7,000 professional women (and men who):
Encourage women and girls to study STEM and pursue careers in tech.

Enable more women to attain leadership positions and career advancement.

Help companies change the landscape of gender equality within their business.
The WIT Network is a non-biased, gender neutral organization that is using its passion for driving change, and its reach and influence to make the technology sector a more balanced market in which to work.
Here are just some of the core benefits you can enjoy as a member of The WIT Network:

Global, regional, and local connection opportunities -- As members, you have access through the network around the world. Whether you are looking for a direct connection, strategic or tactical advice, a mentor, to be a mentor, or are visiting another region, The WIT Network is there to help you.

Meet-ups -- You will receive direct invitations to all our local events and activities, and can meet up face to face or remotely with your local community whenever something is organized. We can't wait to be able to meet in person again post pandemic.

Programs and Education -- Our We've Got WIT Webinars and other leadership programs receive rave reviews. You can participate live or host a listening party with your team for our webinars, roads to revenue, WIT Wellness, Leadership and Articulate Advocate programs.

Increased social presence -- The WIT Network is very active online, and our social squad keeps a substantial presence. Rapidly increase your social following, tell your story by increasing your engagement through The WIT Network.

Finding new opportunities -- People buy from people – and as an organization that attracts women from all the world who are working in the technology sector, we are always thrilled to see people find and/or pursue new opportunities brought to them through The WIT Network. Maybe you can connect with a new business partner, find a new customer, build a new alliance, or even get a new job!