Blog: Meaningful Mentoring Relationships
LEADERSHIP In Action
How to find the spark of connection to create meaningful mentoring relationships
Mentorship is an exchange of wisdom. In order for us to learn from one another and from our lived experiences, we first have to find that spark of connection. – Sarah Haggard, Founder and CEO, Tribute
Storytelling has transformative power. By sharing stories with each other, we are able to learn, grow, empathize, discover commonalities and celebrate differences. Stories emotionalize information, allowing us to feel and connect rather than just hear.
A growing body of science study shows that on functional MRI scans, many different areas of the brain light up when someone is listening to a narrative, Neeley says — not only the networks involved in language processing, but other neural circuits, too.
[i]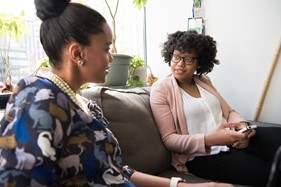 Storytelling and the art of leadership
Great leaders tap into empathy and emotional intelligence to understand and inspire. In leadership, it isn't just the ability to tell a great story that's powerful, it's the willingness to listen to others' stories as well.
As you hear a story unfold, your brain waves actually start to synchronize with those of the storyteller, says Uri Hasson, professor of psychology and neuroscience at Princeton University. When he and his research team recorded the brain activity in two people as one person told a story and the other listened, they found that the greater the listener's comprehension, the more closely the brain wave patterns mirrored those of the storyteller.[i]
What does storytelling have to do with mentorship?
That's the root of what mentorship is. It's sharing our stories and lived experiences so we can help each other better navigate our career journey. Through story, mentors can share their knowledge and lived experiences as well as look at their own journey through fresh eyes.
Author Salmon Rushdie says, those who do not have the power of the story that dominates their lives – power to retell it, rethink it, deconstruct it, joke about it, and change it as times change – truly are powerless because they cannot think new thoughts.
[i]
Storytelling is critical to mentorship, and mentorship is critical to your career.
The game-changing power of mentorship
Without mentors, success is harder to achieve. While most people (76%) consider mentors important or critical, less than half (37%) currently have one.[ii] Women benefit from having both male and female mentors. While male mentors are easier to find, there is a deficiency of women-to-women mentorship because there simply aren't enough female leaders.
Only 5.8% of Fortune 500 companies have female CEOs

[iii]

Women of color hold just 4.6% of board seats in the Fortune 500 while white men hold two-thirds of the Fortune 500 board seats.

[iv]
It's hard for women to see themselves in those seats or learn how to carve a path to that table without mentorship. Mentorship allows for career planning, goal setting, and better decision making. Mentoring lessens feelings of isolation, creates a safe space for sharing and emotional support. Research also shows that people with mentors are happier at their current jobs than those without.[v]
The problem is really locating mentors who are willing to enter a mentoring relationship.
Mentorship in the palm of your hand
The WIT Network and Tribute have partnered to help The WIT Network members build and maintain meaningful mentor relationships. With Tribute, you get the transformative power of mentorship, storytelling, and shared life experiences delivered to your mobile or desktop, or through Teams or Slack. The best part? Tribute is available for all WIT Network members as part of your membership.
Easily discover and connect with mentors, while Tribute helps you:
Build your network

Share real-time knowledge

Stay in the flow of work

Create mentorship communities

Access mentorship training resources

Promote diversity, belonging, and inclusion

Set goals, schedule meetings, submit feedback, and download activity reports to add to your work portfolio
Tribute is the spark, says Sarah Haggard, It ignites meaningful relationships because it is designed for the way people naturally connect. Because there is nothing more effective for launching your career than connecting with the right people.
You can learn more about Tribute and walk through how to register (it's really quick!) by watching this webinar on demand. Or, if you want to get started on your mentoring journey immediately, go to this landing page to get your quick start guide.
References:
[i] https://www.npr.org/sections/health-shots/2020/04/11/815573198/how-stories-connect-and-persuade-us-unleashing-the-brain-power-of-narrative