2023 International Women's Day On Demand
Thank you to all who joined our
International Women's Day Conference 2023
We had over 750 people participate in our 5th Annual International Women's Day Conference held virtually on March 8th to celebrate around the world, in our communities, and in the technology industry. We laughed, we cried, we lifted each other up and we were inspired by the incredible speakers. They delivered empowering messages addressing the multifaceted topics around moving beyond imagining a world with gender equity by taking action.
For those who missed the event or who would like to re-live these transformational discussions, speaker videos and links are posted below.
We look forward to welcoming all our of new members from around the globe and thank you to everyone who were part of our incredible conference. Stay tuned for our annual WOMANagement conference in the fall.

The WIT Network Celebrates International Women's Day 2023

Co-Founder and CEO - The WIT Network
Christine is so passionate about women's opportunities, challenges and helping organizations create more diverse and inclusive workplaces, she formed The WIT Network. She has been in the technology sector for 25+ years after owning her own successful tech company as well as tremendous experience in partner strategies with the tech ecosystem. As the CEO of The WIT Network, her team is supporting over 10,000 members and women's employee resources groups along their career journey.

Tiffany Wallace
Vice President, Business Development, United Training


Corporate Vice President, Azure + Industry, Microsoft
Alysa is a true role model in the industry as she navigates so many responsibilities in leading the intersection of product, marketing, and technology. As a 19-year veteran holding many senior management positions at Microsoft, her inspiring keynote kicked off our conference with tremendous passion to Unlock Your Ultimate Career.

Director and Client Partner, IBM Consulting
Ruth Davis began her career as a Systems Engineer after earning her degree in Electrical Engineering and has been with IBM for 24 years. Ruth recently served as IBM Director of Call for Code, a Tech for Good platform that brings together global developers and problem solvers to create sustainable open-source solutions. Ruth led the growth of the ecosystem of corporations, developers, and students to address the world's most pressing issues including natural disasters, racial injustice, Covid-19 and climate change. She is active in IBM's Women's Executive Council and Black Executive Council leading agile teams.

Executive Partner | Author
Debra Christmas is a seasoned leader in tech with 40+ years encompassing sales, consulting, channels and managing all aspects of IT as a Chief Information Officer in both the private and public sector. As an Executive Partner with Gartner Canada, she provides consultation on strategy, technology decisions and leadership development for senior IT executives in Canada. She is the founder of Stiletto Gladiators, a non-for-profit consultancy focusing on diversity, equity and inclusion and coaching organization for women in business. She is the co-author of "Please Stay: How Women in Tech Survive and Thrive" and co-founder of Women in Tech Tribe.

Power Panel - Men As Allies
Gavriella Schuster (Moderator), Aaron Brooks, Raghu Gollamudi & Robert Lescano
We were thrilled to bring a new conversation to our conference as well as launch new
Allies Programs and Training
in partnership with Gavriella Schuster. This conversation with key industry leaders about understanding, observing and actioning how to become a true ally was one of our top-rated sessions at the conference.

VP, Revenue Growth & Marketing, Softchoice | Author
With over 20 years of tech experience and being no stranger to The WIT Network, Cheryl is a huge ally and advocate for women in the workplace. Her debut book The Token Woman, a Guide to Thriving as a Female Leader in Sales is a great read to empower women leaders in what continues to be a male-dominated industry. As Vice President of Revenue Growth and Marketing at Softchoice, Cheryl leads and drives growth across the organization.

Power Panel - Women Supporting Women
Kelly Nagel (Moderator), Sabrina Lowery,

Rekha Rao-Mayyo & Susan O'Sullivan
This panel of women across various industries shared how women supporting women as allies is equally important. Watch this video about advocacy and how we can all lift each other up.

Siobhán Cox
VP of Marketing, Pricing & Strategic Partnerships,
Bell
As Vice President of Marketing, Pricing and Partner Management for Bell Business Markets, Executive Sponsor of Women at Bell Employee Resource Group and an active member of the BBM Diversity and Inclusion Council, Siobhan is widely versed on the need for more women in management and leadership. Siobhan has a track record leading transformative change with more than 20 years of global technology experience.

Power Panel - The Power of Community
Doreen Sebben (Moderator), April Allen, Joie Bose, Mary Alice Colvin
The WIT Network is so unique in that it is both global and local through its many communities in cities around the globe. This panel discusses the power of community and how being involved can be so rewarding both professionally and personally. Many women want to lean in, elevate, be part of a movement and make a difference. Watch this video to hear more.

Corinne Sharp
Co-Founder | CMO – The WIT Network
Corinne has been in the tech sector for over 30 years in sales, marketing, channel leadership and corporate strategy. As a Co-Founder of The WIT Network and leading their program and marketing strategies, she is passionate about ensuring more women are visible, heard and recognized within their organizations. She has brought The WIT Network's programs to life with her marketing team and helped propel the brand to global heights.

Thank You to Our Sponsors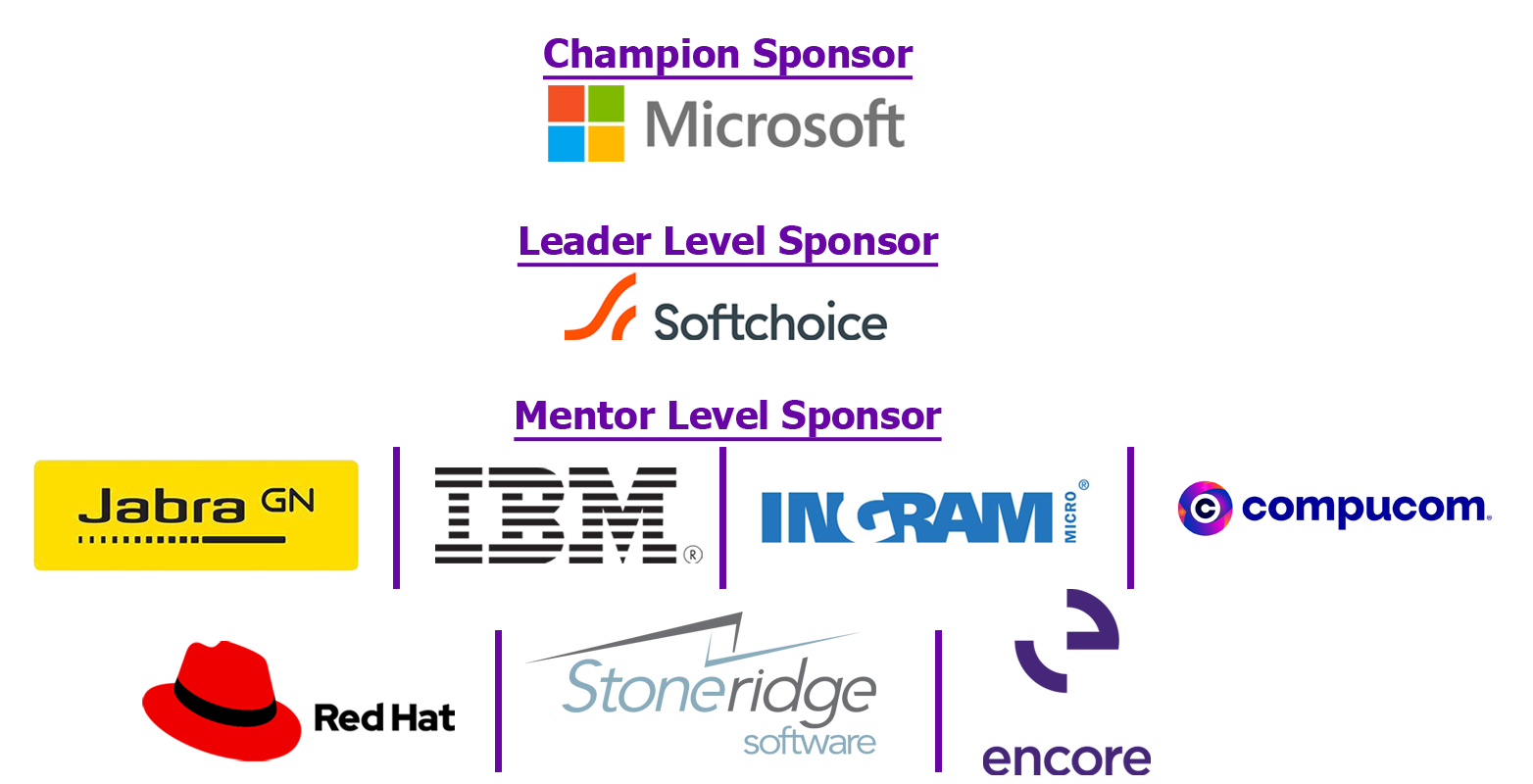 About The WIT Network:
The WIT Network is a global and local community made up of over 10,000 professional women (and men who):
Encourage women and girls to study STEM and pursue careers in tech.

Enable more women to attain leadership positions and career advancement.

Help companies change the landscape of gender equality within their business.
The WIT Network is a non-biased, gender neutral organization that is using its passion for driving change, and its reach and influence to make the technology sector a more balanced market in which to work.
Here are just some of the core benefits you can enjoy as a member of The WIT Network:

Global, regional, and local connection opportunities -- As members, you have access through the network around the world. Whether you are looking for a direct connection, strategic or tactical advice, a mentor, to be a mentor, or are visiting another region, The WIT Network is there to help you.

Meet-ups -- You will receive direct invitations to all our local events and activities, and can meet up face to face or remotely with your local community whenever something is organized. We can't wait to be able to meet in person again post pandemic.

Programs and Education -- Our We've Got WIT Webinars and other leadership programs receive rave reviews. You can participate live or host a listening party with your team for our webinars, roads to revenue, WIT Wellness, Leadership and Articulate Advocate programs.

Increased social presence -- The WIT Network is very active online, and our social squad keeps a substantial presence. Rapidly increase your social following, tell your story by increasing your engagement through The WIT Network.

Finding new opportunities -- People buy from people – and as an organization that attracts women from all the world who are working in the technology sector, we are always thrilled to see people find and/or pursue new opportunities brought to them through The WIT Network. Maybe you can connect with a new business partner, find a new customer, build a new alliance, or even get a new job!